Testimonials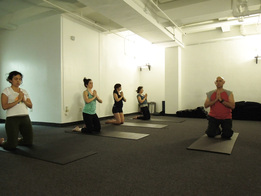 Go On Keshava, Leave Me Breathless: Hatha Yoga
No, this post isn't about the song "Breathless" by the Corrs, but it does go something like this: Ommm…Ommm…"Ummm, Amy- time to wake up", Laura said to me as I was practically entering REM sleep. The deep relaxation that I had just experienced from Hatha yoga at Keshava Radha Yoga made me extremely sleepy. Rising from my slumber, I clasped my hands together in a state of utter tranquility, and said "Namaste".
Keshava's class is a journey that conveys this spirituality in every way, from the incense to the calm music. The main goals of his 90-minute classes are to focus on total awareness of the body, the mind, and your own breathing. He focuses on experiencing emotions such as love, joy, and peace during and after the class. By the end, he wants you to feel completely and deeply relaxed, and believe me, you do.
Keshava's classes incorporate vinyasa (flow), asanas (postures), pranayama (breathing exercises) and relaxation. We did numerous repetitions of downward facing dog, chatarunga, plank and upward facing dog.
After thoroughly "getting my zen on", green tea was handed out to the class. This boost of natural caffeine was much needed after my mini-nap in Ardha Kurmasana (wow, that's a mouthful) position.
Most would immediately assume that other types of yoga are more challenging than Hatha yoga. However, traditional Hatha yoga is equally as strenuous because it is hard to focus on breathing, being aware of your posture, and clearing your mind all while posed in a position such as plank (which causes muscle-twitching and sweat-dripping).
getsweatup.com
Following the Mayan Apocalypse, Yoga Sleuth decided to celebrate the end of everything with some Hatha. KeshavaRadha had opened earlier in 2012 in the fashion district and was raved about on the Interwebs, so I figured it was high time I got on the mat with them.
Upon arriving at the 10th floor and entering the small lobby, Radha welcomed me warmly, as did the cheery students hanging about, clearly regulars. I entered the gray carpeted, dimly lit studio to the sound of soft music and selected a complimentary black mat, taking my place among ten other students.
We instinctively lied in Savasana, and when Keshava arrived, rather than snapping us into action, he had us remain there. He asked us to open our lips and keep them open, as clenching them tight would inform the rest of the body to do the same. At Keshava's urging I stayed with my lips parted in a slight smile throughout practice no matter what pose I was doing, and may I state it makes for a much better experience than wincing and grunting!
"Give yourself a few moments to relax," said Keshava. "Breathe, deep and slow. Inhaaale, eeeexhale," he added, stretching the words out as a guide for our pace.
"We practice relaxation according to the nervous system of the body. The way we see our bodies, the legs are longer than the arms, the chest is bigger than the head. But the way the nervous system sees the body is completely different, it's perceived according to the nerve endings. So your two palms are bigger than the entire body. Your lips and tongue are bigger than your head. In meditation and relaxation, that's why it's important to not move the palms and the fingers. Make sure the lips are not touching, the tongue is relaxed and not touching the upper part of the mouth. These stimulate the brain more than the entire body moving would."
Something to think about, or rather, not think about! "Your brain relaxes and the mind follows," concluded Keshava. This state of relaxation served us well in the ensuing Asanas, each of which we would hold for a rather considerable length of time. Keshava had us do a very slow form of a sit up, stretching the neck and using the abs to keep the cervical and thoracic spine up.
"The point of the practice is not like gym."(I blinked…did he say "Jim?" What did I do this time?) "The point of the practice is to feel what's happening to the body. To develop awareness of the body. This is why the movement is slow, so you can feel."
"Keep the chest wide open," said Keshava as we lied supine, pulling the knee to the chest. Then we straightened the leg and attempted to bring the forehead to the knee. "And smile!" smiled Keshava.
One particular challenge for me was a bridge with one leg straight in the air. "Ok hold that pose," said Keshava. He began to inch toward the front door. "I'm going to go have tea and cookies, and we'll talk later!" The room erupted in laughter. He warned us not to come out of the pose while he was "away". "Don't go down, I have a camera!"
With the poses held for so long, Keshava was able to help each and every one of us with an assist or correction, even though we were all now thinking about cookies. "Sorry, I put that there!" said Keshava.
"Open the mouth, feel the breath; the difference between the legs. The body becomes a door to communication, a door to life. You can take charge of the mind through the body. This is the science of Hatha Yoga."
He gently challenged us, one by one, to go further in every Asana (none of which were ever cued by name—per Keshava we were going by feel), as when he coaxed my shoulder to the mat in supine twist and guided my right thigh over my left. "That's where the work is," he explained. It was almost like 11 students each getting their own private customized lesson at the same time. We worked through a Shoulderstand and a Fish Pose before returning, wiser and in the moment, to Savasana once more.
"The body doesn't speak in words, it speaks in feeling," said Keshava. "Feelings we try to describe in words. But the description never comes close. Like 'love.' Until you have experienced love you cannot understand love. What is important is the experience, the feeling of love. Who cares about the explanation? And yoga is exactly the same. Experience. Feeling."
Drop-in Classes at KeshavaRadha are $15; your first class is on the house.
-Jim Catapano for Yoga Sleuth
"I've known
Keshava
and
Radha
for about two years and have taken several classes and workshops with them in different environments. The small classes with hands-on individualized attention, the detailed instructions and careful teaching style and the respect for the body and its capacity and limits make this place very unique. I've been practicing
yoga
on and off for more than seven years, but it wasn't until I found these teachers that I was able to incorporate it to my life regularly. A few highlights of my experience: Their classes and workshops are always different. We work on traditional Hatha
yoga
postures, but never under a set routine. The warm ups varied and they allow you to understand and feel the process and eventually get into the pose, not only from watching the teacher do it, or from his/her well crafted instructions, but mostly from feeling the parts of your body that need to be involved// The movements are slow but not boring or dull. The interesting part is that we learn to make intense effort without adding more tension to the one we bring, to move from a place of relaxation, or at least try to. We learned to breath, focus and practice switching the attention to discover the connections between body and mind.// The benefits are multiple and you can see them quick. My posture has changed completely. I feel able to accept my limitations and work with them easily instead of forcing or struggling. Even if I travel or slow the practice, as soon as I'm back I develop a tone and strong body, I feel calmer, relax and thoughtful but not worried.// The studio is a perfect space to change the pace. It's one of those classic New York experiences: A suite in a 10th floor in the fashion district hides a quiet place to disconnect from work, social life and the hectic pace of the city itself. A simple and beautiful space to enjoy movement and silence. Not new agey or hippyish expectations; not judgments or moralizing stories in class; not trendy, competitive or demanding environment. This is just a laid back, comfortable and supportive pocket of peace in the middle of our beloved madness.
Keshava
and
Radha
are very personable, transparent and generous. Their guidance comes from more than 15 years of experience and different practices, also from a sincere and rigorous quest to know them selves and help others to do the same. They offer nuggets of wisdom and share their spiritual discoveries with those who want to be part of them. The classes are ideal for beginners that want to get the basis without risking injuries or advanced students that want to clean their habits or explore the depth of the postures or the practice of
yoga
as union of many things, in the mat and in life."
Portable Angela
"Yoga for the soul!! I can't say enough good things about this place or these people, but I'll try. I have been going to Kesheva's classes for the last few years. He and Radha spent many years living and teaching
yoga
in an Ashram, so their practice is deeply spiritual. The focus is on being present to your experience, on transcending the mind. It is about discovering the incredible universe inside you. Class has nothing to do with how flexible you are or how good you look. It is about working within your body and your ability. You will be challenged to work hard, to find the state of effortless effort between straining yourself and giving up too easily. You will learn how the mind works. You will open your heart. It's not about getting a workout, but you will get a serious workout. Kesheva was a professional basketball player in Israel, a martial artist, and then a
yogi
for 15 years. He has dedicated his life exploring the physical as a gateway to the spiritual. Radha is an incredibly accomplished and beautiful dancer and also has 16 years of spiritual training in an Ashram. They are wise, joyful, and balanced… wonderful people to learn from. Everyone I've ever taken has loved it. I have gone hundreds of times and I am still learning and expect that will be true for as long and as many times as I go."
Nicola
"I have practiced yoga with Keshava and Radha for many years-- without a doubt they are without peers in the field of yoga in NYC. You will not find more personalized attention- they are a blessing to anyone at ANY level of practice. Keshava is also an expert at teaching Tai Chi~ Radha at teaching Indian dance. I can not recommend them highly enough."
Bonnie Lau


"I only have positive thoughts for Keshava Radha Yoga. A simple and humble space (that's all you need!), Keshava and Radha create an environment in which to relax and practice the purest form of Yoga. I always leave class feeling energized and radiant, even on my toughest days. Class sizes are small and
personalized (no you will not be mat to mat with your neighbor) and each student is assisted and adjustments made as necessary (oh, I was crooked doing downward dog this entire time??) Under Keshava's guidance, I trust that I am learning the correct form for each asana and he's constantly pushing us (safely and within our own capacities) to stretch ourselves (ha, yes pun intended) to our maximum potential.
Perfect for beginners and seasoned yogis alike. Meditation is also offered weekly in addition to other in-depth workshops.
If you're looking to escape the yoga "scene" and have a personal, guided yoga practice - I
invite you to give Keshava Radha a run. As much as I want to keep them all to
myself, I can't help but spread the love :)
Hari Om!"
Jessica L
"After trying many yoga studios in the city, I discovered a little Krishna place on Avenue C between 6th and 7th street, right next to my apartment. At the time I was suffering severe back pain, numbness & tingling in arms and hands and pain all the way down my legs. The pain had begun to restrict me in my day to day life. I went to all kinds of doctors, to physical therapy, massage, rolfing, acupuncture....you name it...nothing seemed to help. It felt like I lost touch with my body which was just aching constantly. Keshava taught me to feel my body again and allow it to relax and release the tension I had built up over the years. After attending his class at least 5 days a week for several month...focusing on myself....step by step the pain became less and less and now years later it comes just back in severe moments of stress but thanks to Keshava, I now know how to release it and how to connect my mind and body again....and to know how important it is to take the time to do so. After 9 years in NYC, I moved back to Germany and think often of his classes and I miss them. To cut a long story short: THANK YOU KESHAVA!"
Sabrina Gritzmacher
Keshava has this extraordinary ability to dynamically adjust the class to the level of the participants without making it too difficult for beginners and too easy for the most advanced, all at the time. Each class focuses on different elements, but they all combine strength, flow, flexibility, breathing, and relaxation. Also, both teachers have many years of experience and deep Hindu roots. I've been to many different yoga places, but this one is really unique.
Great yoga for both body and soul
Maury
I've been a yoga student of Keshava and Radha for many years in their previous location (east village). They teach classic hatha yoga with full focus on awareness and relaxation. Every class is incredible and is a real transformative experience. I'm so grateful to have them back in the city! The real thing - highly recommended!
Merav
Keshava is the best yoga teacher I have encountered in my life. I bought the yoga passbook for 2011 and I tried so many classes but none of them can even come close to my experience at this place. I have been suffering from a lot of back pain, stress and anxiety and when I walk out of here, I feel like a new person, I am really starting to understand hatha yoga from the perspective of the mind as well as the body, and I must thank Keshava for making these classes available.
V"
I've been an inconsistent yoga practitioner for years but this is my first experience with hatha yoga. I find it highly effective for me, not least because Keshava is such a gifted teacher. He is very attentive, knows his students, and I feel often tailors the sessions to the needs of the people in the room. At the end of a 90-minute session my body feels worked but I am refreshed and relaxed. Heartily recommended."
Eran
I am so grateful for Keshava and Radha and their new Yoga studio. Their wisdom, enthusiasm, and positivity is unbelievable. The healing, laughter. and wisdom I have received from their teachings is deep within my heart. I highly recommend going to check it out.
Daniel Ceballos Diaz
---